I'm always looking for new books. Recently, I stumbled upon a few good ones, so I thought I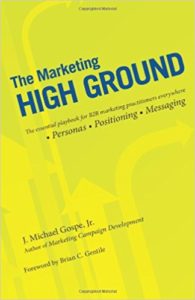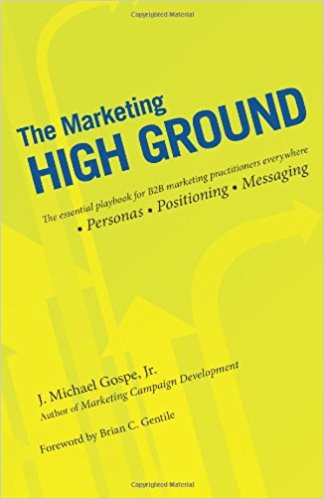 would try something new and share a few reviews.  I'm kicking it off with "The Marketing High Ground".
"The Marketing High Ground" is one of the better books that I've read in awhile. Have you ever found yourself emphatically nodding along with each turn of a page? That was this book. Not nodding along because I already knew all of the concepts; nodding along because I understood (vehemently, in some cases) the issues that this book was designed to solve for.
So what exactly does this book solve for and who should read it? This book is designed to help B2B organizations:
Create personas
Develop positioning
Create the messaging using said personas & positioning
If you are a B2B organization and you haven't nailed down each of your personas, positioning and messaging – I highly recommend that you read this book for a methodical approach to each of those things.
The book also highlights the importance of different messages throughout the funnel that help tie together the sales cycle and the buying cycle. (Can I just take a minute and say how excited I am that they took the time to acknowledge the difference between the sales cycle on the buying cycle?) I so often see those words used interchangeably in to mean the same thing when really they're two very different processes.
If you find yourself in a B2B role where you are marketing to groups of people using the same messaging on blast, this book is for you. The goal of this book is to help you to create the most impactful content based on the needs and interests of your audience. The concept of doing this isn't something that is new to most people. As you're reading this post you're probably thinking to yourself "sure, that something that should be done. That isn't a new idea." And if that's what you were thinking, you were right but knowing that it needs to happen and knowing the steps to put it into action are two very different things.
If you work in-house at a large company, this might seem like an overwhelming feat.  This book does a really great job of breaking down the exact approaches as well as the workshops to be held in order to come to a consensus. The book acknowledges that cross-functional teams would need to participate and is realistic and forthcoming about the challenges that will almost definitely be faced. The book gives suggestions to proactively prepare for those challenges,
At a high-level, here are some of the action items that you can expect to take away from the book:
Tips to determine if your product is a good fit for the market. (Market-centricity is everything, y'all.)
Examples of positioning statements.
What a position statement is, and what it is not (A position statement is not a data sheet. Can I get an amen?!)
Criteria for creating a positioning statement.
A structure for aligning the buying process, the sales process, and communication objectives to tie the two together.
Examples of companies that have successfully designed messaging to communicate positioning at the right time based upon the sales cycle and the buying cycle.
Tips for leading each of the exercises designed to create a persona, the positioning, and the messaging.
Sample agendas and common objections as well as proactive measures for success.
As a bonus, it is a super easy read with only about 180 pages some of which have diagrams and enlarged pull-quotes.
You don't have to take my word for it, or the 4.8/5 Amazon review, or the industry friends that I've recommended it to; one of which whom is an expert in positioning and messaging, with loads of experience across all types of companies. But, just saying, we've both already ordered the sequels.
Happy Reading!
Summary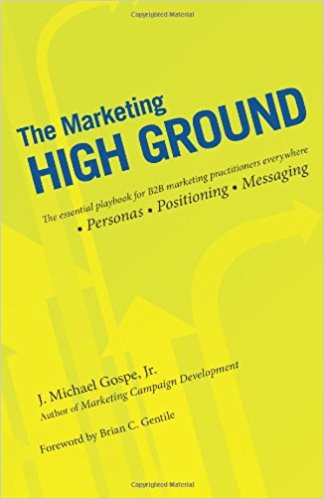 Article Name
Book Review: The Marketing High Ground
Description
A digital marketer's book review of The Marketing High Ground, a book geared toward B2B marketing. More specifically, a book designed to help B2B marketers create personas, positioning and messaging to break through the noise.
Author
Publisher Name