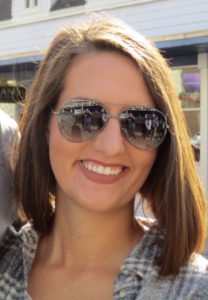 About Me
I was raised on a farm in Northern Indiana and, as a result, I have a killer work ethic. (You don't have to take my word for it.) My husband and I own a farm in Southern Indiana along with a small herd of cattle. I am a Boilermaker through and through (Boiler up!) and when I'm not working I love to travel and spend time outdoors. I love to talk shop and I never get tired of good jokes. Okay, even mediocre jokes; I'm not picky.
Work Experience
I have multi-channel experience across several industry verticals. My clients have varied widely including management of start-ups to Fortune 500 companies and my expertise includes e-commerce, lead generation and localized site-to-store strategies. I enjoy staying involved in the industry by blogging and speaking at industry events.
You can find my blogs on Search Engine Land, Marketing Land, The SEM Post, PPCHero, The Clix Blog and The SEMrush Blog. I've spoken at HeroConf Portland, SMX East, HeroConf London, SMX West, SMX Advanced, SMX Munich, DFWSEM, HeroConf Philadelphia, and HeroConf Los Angeles.
Before becoming a full-time consultant, I was the Director of Digital Marketing at ZirMed. At ZirMed, I developed marketing plans and managed a team of digital marketers to implement multi-channel campaign strategies including but not limited to paid search, SEO, display, social, paid social, IP targeting/ABM, email marketing, marketing automation, website management, content promotion, landing page optimization, lead scoring, reporting and attribution.
Before that, I was the Director of Account Audits, Outbound Marketing and Training at Clix Marketing, a Louisville based agency that specializes in paid media including paid search, display, mobile, and social. At Clix, I managed clients and campaigns, as well as leadership responsibilities. Before joining Clix, I was an Account Supervisor at Hanapin Marketing and an Account Director at DAC Group. Outside of client management, my roles have included responsibilities in team management, training, blogging, new business and project efficiency.
Case Studies
Leveraging Geography For PPC Success
Restructuring Shopping Campaigns to Improve Performance
Speaking Engagements
HeroConf Portland "Leveraging Geography for PPC Success" *Rated among the top 15 presentations*
HeroConf London "Intro to Scripts" – October, 2015
SMX East "Winning at Mobile" – September, 2015
SMX West "Advanced Audience Targeting" – March, 2016
SMX West "The Great Structure Debate" – March, 2016
SMX Advanced "Looking At PPC Through a Marketing Automation Lens" – June, 2016
HeroConf Philadelphia "Advanced Excel" – April, 2016 *Voted Most Actionable*
HeroConf Los Angeles "Taking a Full Funnel Approach to Digital Marketing" – April, 2017
SMX East – October 2017
SMX Munich – March 2018